View cart
"Grab & Glow Sampler Set" has been added to your cart.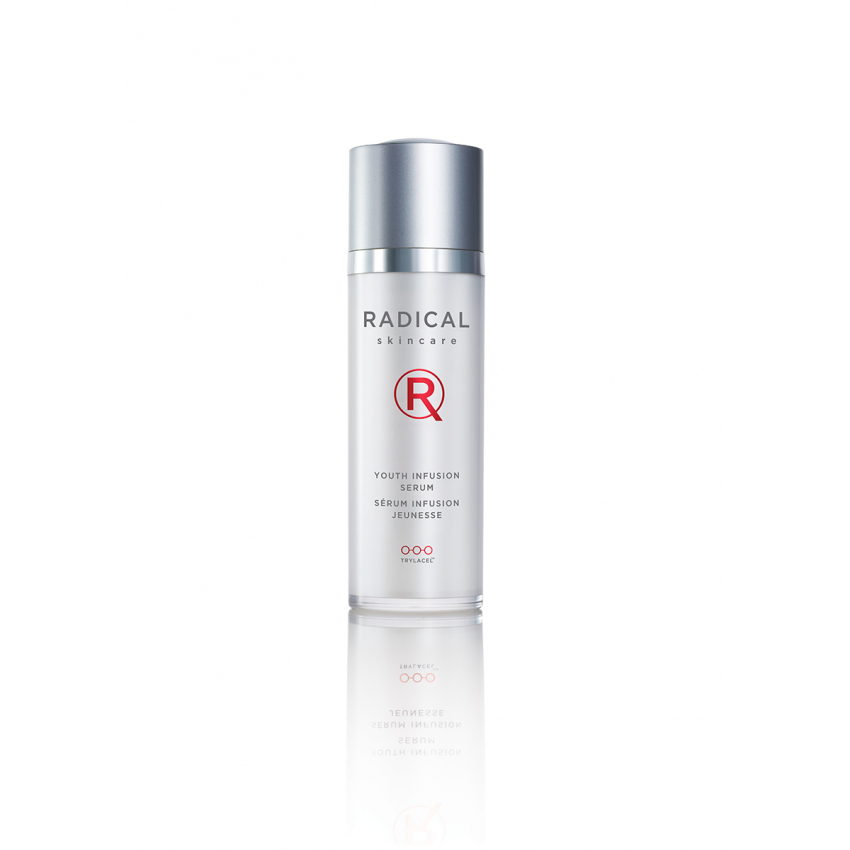 Youth Infusion Serum 8mL
This Youth Infusion Serum is a light weight heavy weight that delivers. Full of the best in defense and repair, a multi tasking genius. Helps to hydrate and Rejuvenate: Plant based stem cells are known to extend the life of healthy cells while reducing the appearance of wrinkles and sagging skin. Acts as a hydration booster to prepare skin to receive potent levels of actives.
Show More
Subscription Product Terms and Conditions
Billing
You will be charged the day your Radical Skincare Subscriptions ships.
The charge will be the price of the product less 10% plus state sales tax. Receive 30% off if you are shopping with a Brand Partner.
Radical Skincare collects sales tax in all states. An estimated sales tax will appear in your cart, your actual sales tax will be in your order confirmation email as well as on the packing slip included in your shipment.
Radical Skincare Subscriptions orders do not qualify for promotions and gift with purchase offers that are not specific to the subscription program.
Subscription Changes or Cancellations
If you would like to change your subscription's delivery schedule, simply log in to your account and click "Manage your subscription." You may change or cancel the scheduled delivery up until the day prior to the next shipment date.
Returns
We hope you enjoy your subscription products. However, if you change your mind and want to return a shipment and cancel your membership in the program, you may do so within 30 days of receiving the shipment you wish to return, provided all products in the kit are unopened and unused. Simply return the unopened product within the 30-day return period, and you will receive a full refund on that shipment (excluding shipping and handling). You will need to ensure that you cancel your membership in the Radical Skincare Subscriptions program if you do not wish to receive any future shipments.
To return an order, follow these steps:
Contact Customer Service by email to customerservice@radicalskincare.com to
receive your Return Merchandise Authorization (RMA) number.
Be sure to include all products being returned (including all gifts with purchase).
Write your RMA Number on the outside of the box.
To ensure we receive your package, make sure to get a tracking number for your records.. There will be a $15 service charge applied to all refused packages.
To receive authorization for a return, please contact customerservice@radicalskincare.com Please allow up to two (2) weeks for the return to be processed, at which time a credit or exchange will be made. If you wish to inquire about your return please call customer service at 1-(424)-330-6811.
Ship returned items to:
Radical Skincare Returns Processing Department
BC Fulfillment
30231 Groesbeck Hwy - Rear Building
Roseville MI 48066-1548
Contact Radical Skincare
We are committed to customer service and value. We welcome specific inquiries and suggestions in regard to Radical Skincare Subscriptions or any other concern you may have. If you have any additional questions, please call us at 1-(424)-330-6811 or email customerservice@radicalskincare.com.
Delivery & Returns
Frequently Asked Questions - Returns, Shipping & Billing
How do I return a product?
We believe in complete customer satisfaction. This is reflected in our 30-day satisfaction guaranteed return policy.
While we hope that you are always satisfied with your Radical Skincare purchase, we realize there are times that you may need to return a product. If you're not completely satisfied, simply call Radical at service@radicalskincare.com and follow the below return policy:
Returns must be made within 30 days of the ship date for a refund.
We regret that we do not refund any shipping or handling charges.
Please do not mail any packages C.O.D., as they will not be accepted.
Please make sure to obtain a tracking number because we cannot issue a refund until our warehouse confirms receipt of the returned merchandise. If the warehouse does not confirm receipt, then you may need to track your package to check the status. We are not responsible for lost packages.
All returns will be credited to the original credit card used for the purchase.
Returns will be processed within 1 week of warehouse receipt.
Please allow at least 2 billing cycles for the credit adjustment to appear on your credit card statement.
We appreciate your continued support and are proud to offer the Radical promise - maximum potency products, maximum results.
How long will it take to process returns?
After the warehouse receives your return, it generally takes 2-5 business days to process your return.
Please keep in mind that your bank typically posts credit in the billing cycle in which it was received. Therefore, the number of days it takes for credit to post to your account may vary, depending on your bank's billing and credit schedule.
What do I do if I receive a damaged product?
Product(s) damaged during shipping will be replaced. Save the package and all contents, and contact our Customer Service at service@radicalskincare.com for further instructions.
What if shipping and delivery errors occurred with my order?
Should you experience any problems with your order, please contact our Customer Service Support at service@radicalskincare.com immediately, so that we may correct it in a timely matter.
When will my order arrive?
Most orders will arrive within 5 to 10 business days after your order has been processed.
Most orders are shipped within one business day but, please allow 2 to 4 business days to process your order. This allows enough time to process your credit card payment through your financial institution.
Who will deliver my package?
Orders will be delivered via the most efficient shipping method available. Unfortunately, at this time, we do not accept requests for a specific shipping method.
What if my product was damaged?
Please DO NOT dispose of the damaged product until you have contacted our customer service representatives at service@radicalskincare.com. We will ship a replacement order out to you as soon as possible. Orders will be delivered via the most efficient shipping method available. Unfortunately, at this time we are unable to process requests for a specific ship method.
What if my order was never received, even if it was reported as delivered?
If for any reason you never received your order even though it showed delivery confirmation, please contact the carrier first with this tracking information. The carrier will assist you in locating this order. If you have contacted the carrier and still failed to locate your order, please contact our customer service support at service@radicalskincare.com immediately as we will be more than happy to assist you with the problem.
Where is my replacement or refund?
Requests for replacements or refunds will be processed promptly upon receipt of your returned package. Allow 7 - 14 days (not including delivery time for mail refunds) from when we accept your returned product for the processing of your credit. Please keep in mind the customer's bank has to post our credit in the billing cycle in which it was received; hence the number of days it takes for the credit to post to the customer's account can slightly vary depending on how quickly the customer's bank posts our refund.
Note: If you should receive the original order in the meantime, please let us know, and kindly return the extra shipment to our warehouse. We thank you for your cooperation and patience.
How do I track my package?
Once your order has been shipped, look for emails from us with status updates, or login to your customer account on our website for tracking information. If you need more information, contact customer service at service@radicalskincare.com
When will my credit card account be charged?
Your credit/debit card will be charged when your order ships. Credit card charges will be shown on your monthly credit card statement. Debit card charges will be deducted directly from your bank statement.
Am I responsible for bank overdraft fees?
Yes, you are responsible for any bank fees associated with the use of your card.
Do you charge sales tax or VAT?
For shipments in the USA, we are required to collect sales tax on all orders shipped to an address in CA. For shipments abroad, we follow VAT/TVA requirements.
Can I return a product on a website order?
We believe in complete customer satisfaction. This is reflected in our 30-day satisfaction guaranteed return policy for web orders.
If you are unsatisfied with the product you ordered on our website, you may return the unused product 30 days from the ship date and you will not be billed for the order.
If you wish to return your order, you must first obtain a Return Merchandise Authorization (RMA) number. Please contact us via email to request an RMA number.
returns@radicalskincare.com
We cannot process or refund packages marked "Return to Sender." The warehouse personnel are not allowed to accept packages without an RMA number.
To ensure prompt processing, please send returns to the address provided along with your RMA number. Please note that shipping and handling charges are not refundable, and that customer is responsible for return shipping charges.
Refunds will only be issued to the same credit card to which they were charged.