Restores, Stimulates and Boosts Radicance.
Instant Revitalizing Mask
$65.00
This Instant Revitalizing Mask has a distinct proprietary formula that foams and pops like champagne. Subsequently identifying your problem areas because it contains a rare plant extract called Nasturtium that causes the "fusion" process and allows it to bubble where you have the most trouble. It takes your skin to the gym with a vitamin B-12 boost and gets your circulation going, to wake up dull and lackluster skin and gives you a beautiful, smooth, revitalized glow that will brighten your skin.
Sold Out
How To Apply
For The Best Results
Apply twice a week on cleansed dry skin. Let mask activate and dissolve after several minutes, rinse face and follow with Advanced Peptide Antioxidant Serum and Anti-Aging Restorative Moisture.
REMEMBER- Shake to Activate the oxygen bubbles to carry these anti-aging nutrients to energize your skin. Then pump to release the Radical goodness and enjoy !
The Benefits
Our Radical Promise
A Radical GPS for your Skin that bubbles where your skin has the most trouble
A Radical Rescue delivers vitamins, rare plant extracts and antioxidants instantly
In 5 to 7 minutes, watch your skin transform; brightening and boosting radiance, softness for a radical glow
Smoothes skin
Radical Selfcare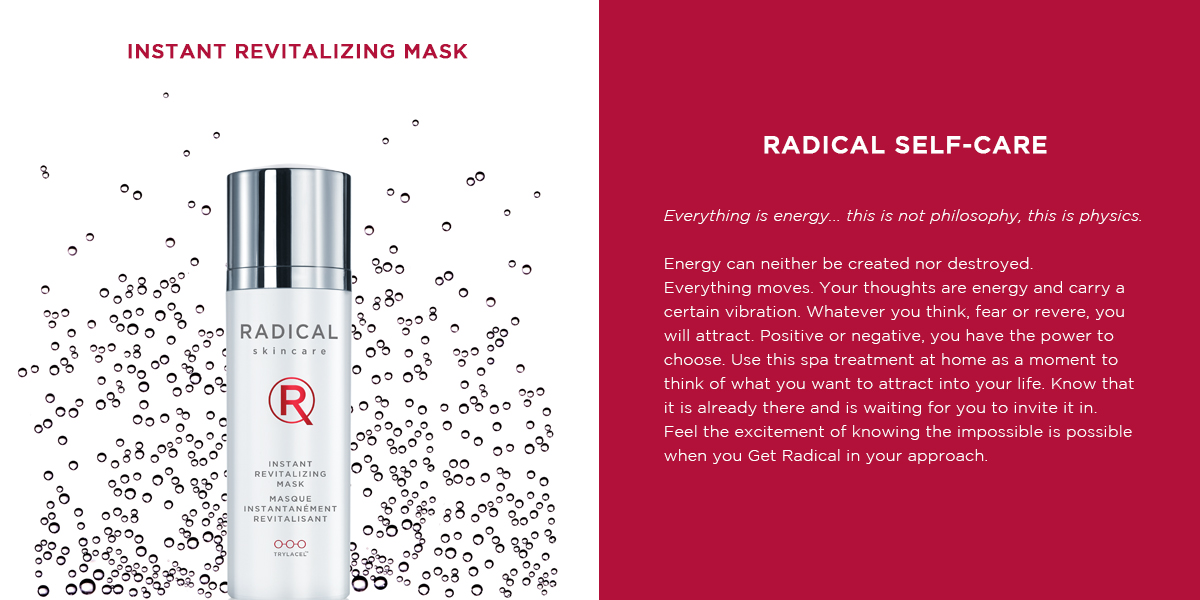 Ingredients
High Performance Active Ingredients
B12: It's like an energy shot for your skin. Helps with circulation for a complexion boost
Sodium PCA (pyrrolidone carboxylic acid): Helps to maintain the moisture balance in the skin
Nasturtium extract (flower extract): Is a rare plant that helps with the Fusion process: The oxygen is infused in the formula so when activated on the skin, it helps to convert the Nasturtium along with other actives, to energy which helps to repair the skin.
Ginseng extract: Stimulates collagen production
Complex of antioxydant multi-vitamins (C, A and E) and beta-carotene: Critical for the production of collagen and the proper development of the skin's natural barrier properties
No animal testing.