We're so thrilled to launch our NEW Detox Charcoal Enzyme Peel, and can't wait to see how it transforms your skin.
To help you work this transformative treatment into your regimen, we're sharing our ultimate how-to guide!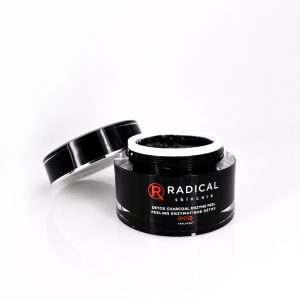 Step One
On dry, freshly cleansed skin, apply a thin layer to your face and neck. Let the mask sit on the skin for 5 minutes. While the mask is sitting, the active ingredients will begin to do their work. The longer you leave the mask on, the more dramatic the results will be.
Step Two
After 5 minutes, begin massaging the mask into your skin with your fingertips using gentle, circular motions. You'll feel the mask liquify, which means the mask is activating. As you massage, you'll begin to feel the fruit enzymes begin to dissolve dead skin, and it will lift away. If you see small black flecks, don't stop – this means it's working!
Step Three
Rinse remaining mask and dead skin away with warm water, then pat dry.
Step Four
Now that your skin has been detoxed, it's ready for more actives! Follow with Advanced Peptide Antioxidant Serum and Anti-Aging Restorative Moisture to complete your regimen and leave skin soft, supple and glowing!
Will you be trying the Detox Charcoal Enzyme Peel?