Exfoliation 101 – Learning the Essentials of Acids
Welcome to the Radical Skincare Ingredient Spotlight Series!
Not too long ago the term "exfoliation" meant scrubbing off dead skin cells with abrasive skincare salts or coffee grounds.
Did this harsh version of exfoliating get the job done and reveal smooth skin?
Yes, albet along with some redness.
But I, along with a lot of people accepted this under the "beauty is pain" motto and continued the weekly ritual.
That is, until Radical Skincare was born!
Liz and I took to the drawing board at the lab and re-created the way exfoliation was understood and how can it be used on a daily basis without irritating the skin.
We took the powers of Alpha-Hydroxy Acid AND Beta-Hydroxy Acid and combined them into the powerhouse exfoliator that you know and love today – our Age Defying Exfoliating Pads.
This is one of our very best sellers.
Creating a safe chemical exfoliant for our customers continues to be rewarding as the before & after pictures continue to pour in.
Exfoliating scrubs would irritate acne prone skin and spread bacteria, increasing the chance of more acne.
By using an AHA & BHA acid, this became the perfect combo to use on acne as well as all skin types.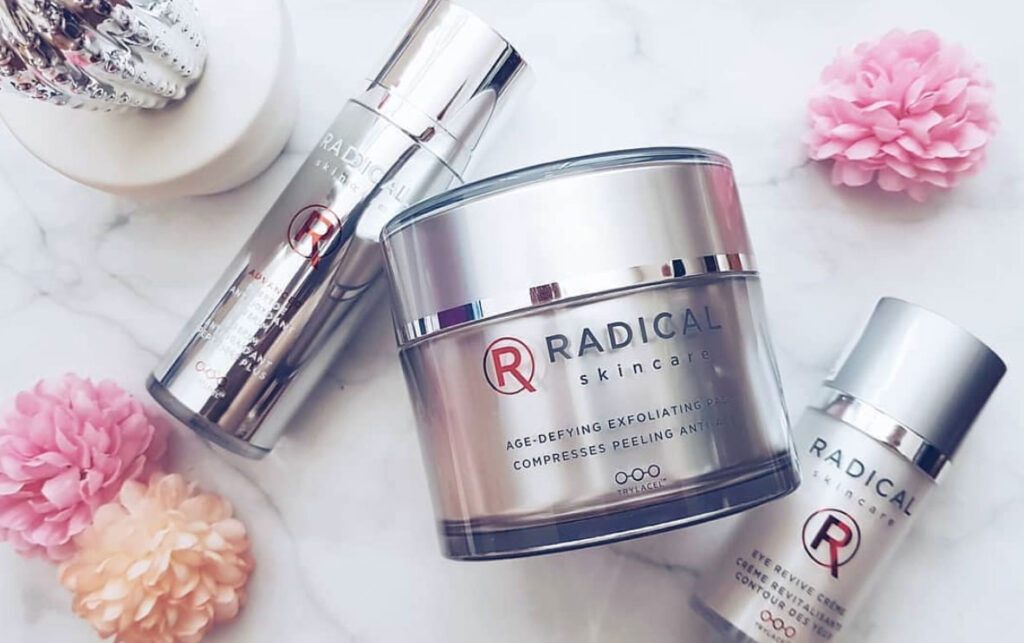 Here's Why
AHA's – These water soluble acids dissolve the bond of dead skin cells on the surface layer of the skin, while simultaneously lessening the appearance of dark spots, acne scars, and fine lines.
BHA's – Also known as Salicylic Acid, this oil-soluble acid has the power to penetrate through the surface layer of skin and clean away unwanted oils and sebum to stop acne in its tracks!
How To Apply
The best way to introduce exfoliating acids into your beauty routine is to start once a week and increase your usage to every other day, then daily.
Apply during the evening and with ANY acids, be sure to follow with our SPF, Skin Perfecting Sunscreen SPF 30 will protect the new layer of skin from being exposed to the UV spectrum.
By adding this one step to your skincare regimen, you will see and feel results as your skin reveals it's inner glow!
Be sure to use AHA and BHA simultaneously for best results.
Comment below and let us know which of our product ingredients most excites you.