As you may know I (Rachel Edlich Co-Founder) started Radical Skincare because of my Rosacea outbreak.
What is less known is just how Radical Skincare products can solve your Rosacea outbreak and redness.
This became apparent to me after I received a lovely email from a customer saying they couldn't find the Radical products that would solve her's and her son's rosacea.
So in this blog post I (Rachel) am going to discuss what Rosacea is, how to treat it, and what Radical products to use.
What is Rosacea?
Rosacea is a common skin condition that causes redness and visible blood vessels in your face.

Rosacea Treatment
To start Rosacea treatment using Radical Skincare products. We recommend you start with the Advanced Peptide Serum and Anti-Aging Restorative Moisture.
Once your skin has settled you can incorporate the Age-Defying Exfoliating Pads every 3rd day.
After a couple days use Age-Defying Exfoliating Pads every second day.
After a couple more days start using the Pads everyday.
Use the Advanced Peptide Serum and Restorative Moisture every morning and every night.
Use the Age-Defying Exfoliating Pads in the evening.
Why Radical Is Uniquely Suited To Help
We get hundreds of emails from smart shoppers who want to know exactly what ingredients are in their Radical products as you should!
We encourage this and love the opportunity to talk about our ingredients, so let's get technical!
Our Trylacel Technology gives us the ability to select powerful anti-aging ingredients and deliver all the goodness to the skin without irritation.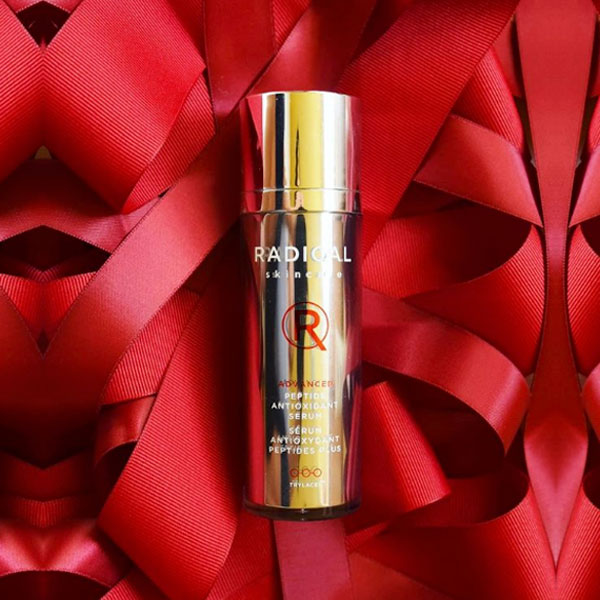 The Advanced Peptide Serum is a creamy serum loaded with powerful antioxidants like green tea, coffee berry, grape seed extract to help fight free radical attack to the skin caused by our environment, stress etc.
Advanced Peptide Serum includes 13 carefully selected and individually tested ingredients and 2 hexa peptides. It includes 9 powerful antioxidants.
Its efficiency is reinforced by Trylacel proprietary technology.
Sepilift: Triple firming action and hydrating antioxidant
Alistin: Anti glycation, stimulates skin metabolism (DNA repair-> firms)
Collaxyl: Collagen hexapeptide reduces length and reduces depth of wrinkles
Vitamin C: Anti spots
Hyaluroninc Acid: Pure sodium hyaluronate for hydration
Argireline: Anti-wrinkle hexapeptide
Extramel: Antioxidant cocktail (Melon) 100% natural process
Arganyl: Secular tree of Morocco to protect from collagenase and metalloprotease (destroys elastin and collagen)
Red Tocol: Cranberry seed oil reduces transpidermal loss
Rice Oil: Anti-inflammatory to nourish the skin
Jojoba and Date Oil: Nourishes and hydrates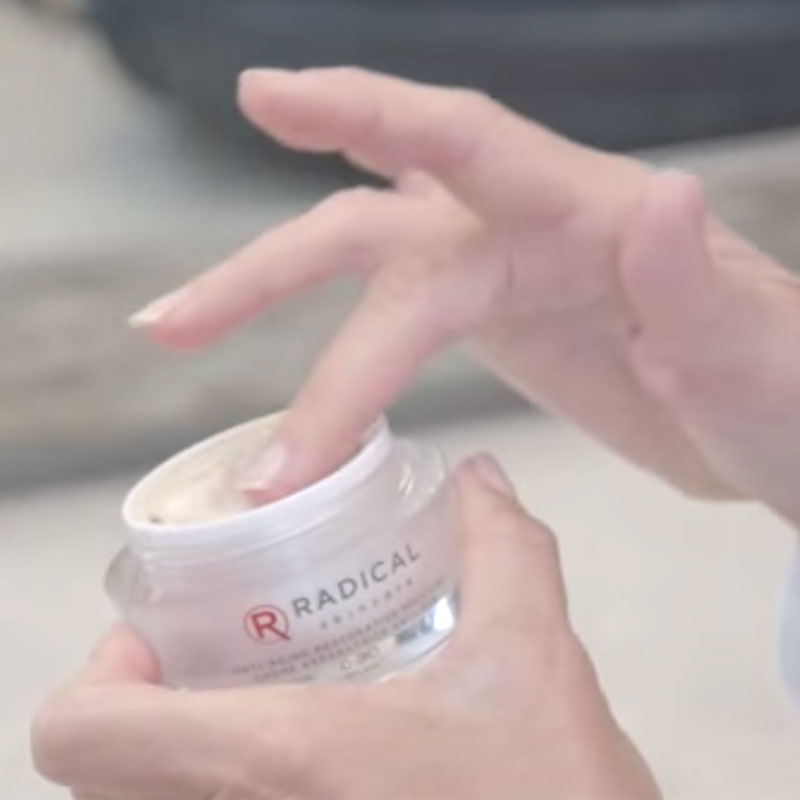 The Anti-Aging Restorative Moisture is so very light weight and locks in hydration:
Here are the high performance active ingredients:
Jojoba, Vitamin E & Aloe: Super hydrating, soothing and nourishing to the skin
Hylasome: Has water binding capabilities for ultimate hydration
Synovea: Lightens, brightens and evens tone. Effective on hyper-pigmented skin
Uniprosyn (oat protein extract): Highly effective in reducing lines and wrinkles, smoothes skin and hydrates
Pentaglycan: moisturizes skin's outer layers for a soft and supple complexion.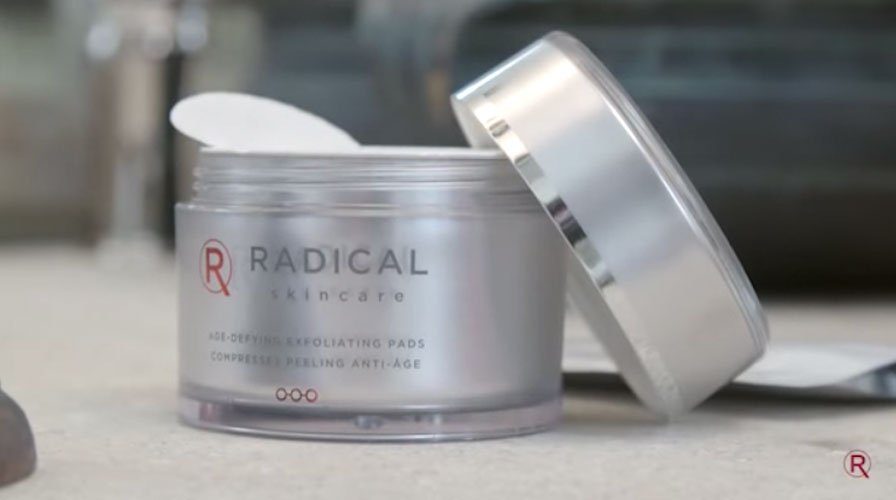 The Age-Defying Exfoliating Pads are AMAZING and really help to smooth the texture of your skin.
It's best to wait until your face is calm before using the pads.
Our Pads are powerful but you would get a reaction with them if you have very active Rosacea.
Begin to use the Pads only once your skin is calm.
Here are the high performance active ingredients:
Malakite Extract: A good source of copper + 1 to boost skin's natural defenses and detoxify
Chamomile Extract: Provides Bisabolol to soothe and calm skin
Both Glycolic Acid and Multi Fruit acids: Provides gentle yet deep exfoliation
Multi-fruit Acids (Sugar Cane, Sugar Maple, Orange Fruit and Lemon): Alpha, Beta and Polyhydroxy acids are exfoliating
Salicylic Acid: Provides smoothing Beta Hydroxy Acid
Oat Kernel Extract: The sugar based film-former tightens skin
Osilift: Tones the skin, makes it firmer, smoothes the skin's micro relief and reduces wrinkles and lines
Witch Hazel: Works as a mild astringent to clean excess residual on the skin and helps to keep the skin's surface clean
You have questions and we have answers!
Please leave a comment regarding your skincare concerns or contact us.
We want to hear from everyone because your question could lead to the answer that so many are looking for!