Unfortunately, there's no magic pill or treatment that can prevent us from getting older. However, there are quite a few products that you can use to reverse or prevent the effects of aging on your skin, like age spots, skin losing its elasticity and suppleness, fine lines and wrinkles, and more. Using a best-selling anti-aging serum could really help you out! But what is a serum? A serum is a liquid that you gently rub into your skin after cleansing and exfoliating to give your face a powerful-punch of high-quality ingredients. The active ingredients of a serum usually vary depending on the goal of the product, but the best anti-aging serums usually contain small to large doses of Vitamin C and hyaluronic acid, amongst others.
We don't need to remind you that every day you're another day older, but we do need to remind you of one of the best anti-aging serums on the market; Radical Skincare's Advanced Peptide Antioxidant Serum.
Here at Radical Skincare, our main goal is to empower women and make them feel beautiful in their own skin; sure, botox is cool, but so are some of the most powerful anti-aging products in the world.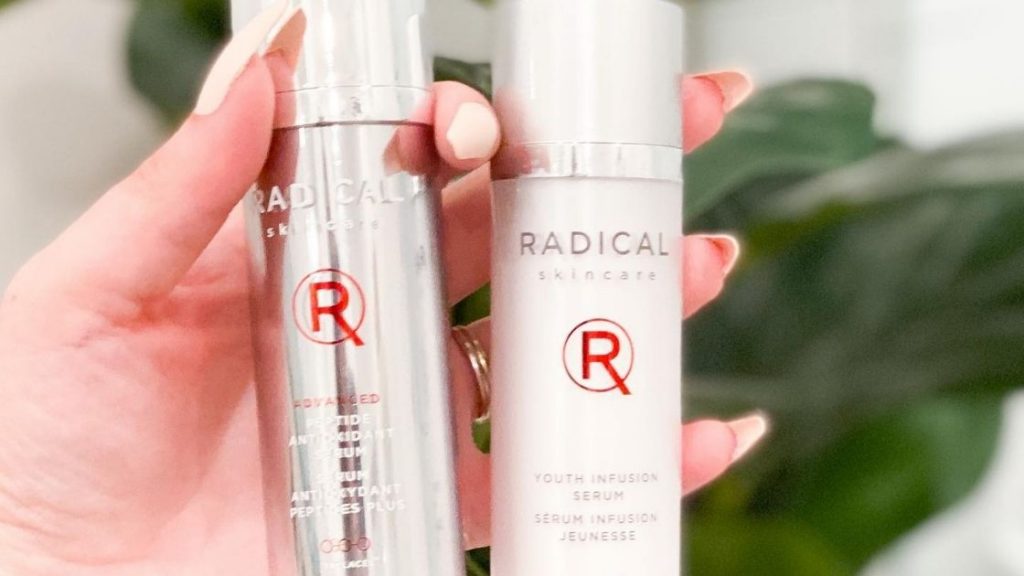 Our Advanced Peptide Antioxidant Serum
One of our best-sellers, the Advanced Peptide Antioxidant Serum, is the winner of the 2014 Elle Genius Award, the SHAPE award, and was featured on London's Beauty shortlist of winners, just so you know that we're not making this up. This revolutionary serum prevents SIXTEEN causes of aging, including age spots, loss of elasticity, wrinkles, and a whole lot more. This serum uses our scientifically-proven Trylacel Technology. This very special technology prevents the antioxidants in our products from losing effectiveness over time and, therefore, gives your skin the boost that other companies just can't.
Our Ingredients
Antioxidants
You've probably heard all about antioxidants while on your search for your dream skincare routine, but you most likely don't actually know what they are. Antioxidants are materials that prevent your skin from oxidizing (hence the name ANTIoxidant) and keep your skin safe from pollution, UV rays, and other environmental factors. Antioxidants are great for acne because they reduce redness and inflammation that is held deep within your skin. We use a plant-derived antioxidant called sepilift that prevents wrinkles, deeply moisturizes your skin, and firms up your face.
Vitamin C
Vitamin C is an extremely important component of skin care. Not only is Vitamin C vital to your immune system, but this vitamin is fantastic at preventing and lightening dark spots from aging, sun damage, scarring, or other causes, as it's a natural melanin inhibitor. Vitamin C will not make you "whiter," instead, it will brighten your trouble areas and give your skin a refreshed, revitalized look. Vitamin C also prevents premature cell death and keeps you looking younger for longer.
Jojoba Oil
Jojoba oil is derived from the seeds of the Simmondsia Chinensis plant that grows in Arizona, Southern California, and Northwestern Mexico. It has been used for centuries for its skin-healing abilities. Jojoba oil is now frequently used to treat eczema, rosacea, and psoriasis amongst other skin conditions. The oil is very lightweight and is non-comedogenic, meaning it can be used by all skin types; this is because the oil is extremely similar to your skin's naturally-produced sebum and regulates sebum production.
Peptides
Peptides are small pieces of amino-acid chains, a protein, that help to repair your skin barrier. There are five different peptides that are used in skincare that each has its own purpose. For example, we use Collaxyl and Argireline, anti-aging hexapeptides that are clinically proven to reduce the depth of deep wrinkles that form all over your face, especially around your forehead and cheeks, over time.
Hyaluronic Acid
Hyaluronic acid is a clear, slightly sticky substance that your skin naturally produces to keep the moisture in your facial skin from evaporating too quickly. However, some of us do not produce enough of this acid to prevent dryness and the evaporation of moisture; not only should your serum have this, but your moisturizer also should too! Hyaluronic acid keeps the water in but lets the toxins out, giving your skin a plumped effect that you haven't had since you were 20. This acid smooths and sorts out your skin cells, making it especially important to those of us who have slightly bumpy skin, perhaps from acne scarring, as it pulls up your sunken points and brings them out.
Arganyl
When thinking of Arganyl you may be tempted to think, "oh, argan oil! I know what that is!" but Arganyl is not the same as argan oil, although extracted from the same plant. Arganyl is a technology that heals the skin from external omnipresent factors like sun damage and pollution without clogging the pores; there have been numerous clinical studies that have proven that the effects of this magnificent ingredient is absolutely worth adding to your routine.
Results of Our Serum
Don't believe that our serum is truly the best? Our reviews speak for themselves; Amy says, "I started using it 4 days ago and my skin looks brighter, healthier, younger – just happier! I will never stop using this product!!" and Amy is not alone; see our other testimonials!
This serum is guaranteed to smooth your skin, reduce wrinkles/fine lines, lighten your age spots, and more! If you've got any sort of problem, this is your wake-up call. If all its benefits aren't enough for you, we never test on animals!
The Advanced Peptide Antioxidant is the perfect serum for you, whether you have acne, dry skin, oily skin, eczema, rosacea, etc., etc., whoever you are and whatever your skin might've experienced, give the best anti-aging serum a shot by clicking here. We promise that you won't regret it!